In 212 Slovenian municipalities, there are 58 public libraries (regional and town libraries) with 276 branches and 14 mobile libraries. They are separate legal entities which provide library services at 1.193 service point locations.
The public library system includes:
regional libraries, which perform special tasks for the library areas they serve (in addition to meeting community needs)
town libraries, which serve the local community's needs
branches (organisational units of town libraries), which serve the inhabitants of the local area or specific target or interest groups
mobile libraries (organisational units of town libraries), which offer activities and services using a motorised vehicle carrying library material
temporary deposit collections (a part of town librariesʾ collections), which are available in convenient locations for a fixed period
The Slovenian public libraries work on joint projects to create unified customer service offers  The main responsibility for each project development and implementation lies with the regional library, where the project starts. Afterwards, these services are offered to users in all Slovenian public libraries.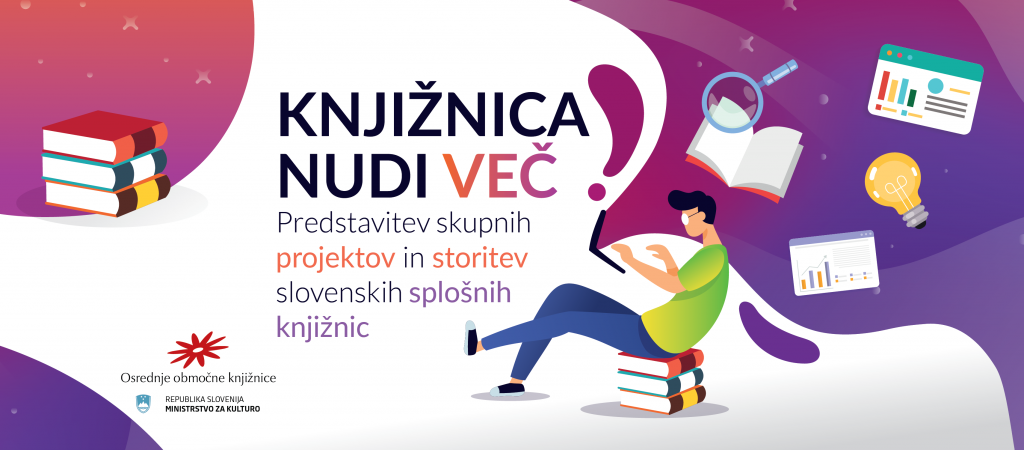 Seven million visits to public libraries take place across the year by almost half a million people, who are members of the Slovenian public libraries. Users borrow materials, attend events, participate in training, use computers and the Internet, access a wide range of databases, and read newspapers and magazines.
The public libraries covering border areas also provide access to library materials to Slovenians abroad. In cooperation with the libraries of Slovenians abroad, they purchase materials in Slovenia to meet the needs of fellow citizens abroad and assist in the development of the libraries of the Slovenian minorities in neighbouring countries.
REGIONAL LIBRARIES
According to the Rules on Conditions for Providing Library Services as a Public Service, Slovenia is divided into ten library areas, each of which has a regional library with specific tasks.
COMPETENCE CENTRES AND COMPETENCE CONTENTS

Competence Centres provide in-depth knowledge and are responsible for developing and optimising the performance of a specific field or service in the national public library network.
Competence contents are implemented within the framework of projects by the regional libraries.